Switzerland
Heaven on Earth
Going snowboarding in the Alps didn't even come across my mind as a possibility a few months ago.

For the last four years, my friend and I have been going on snow seeking trips. Living in NJ there's only so many places we can snowboard at. Starting our senior year in high school, we went to Vermont. It was a lot of fun. I've been snowboarding for about 10 years at the time but I've never been snowboarding in Vermont before. I was stoked. The year after that we went to Colorado. Last year we got a group of 8 or so people and went back to Colorado. This year we were ambitious maybe a little greedy. We wanted something even better than Colorado. We were hoping to go to Wyoming or British Columbia or possibly Alberta. We knew we were gonna have to spend a lot more in order to go to any of those places. As a joke I checked how much it would go to snowboard in Switzerland. Surprisingly it was cheaper than going to snowboard in North America. We could even rent a car and it would be cheaper. Our other two friends were down to tag along and we booked our trip asap.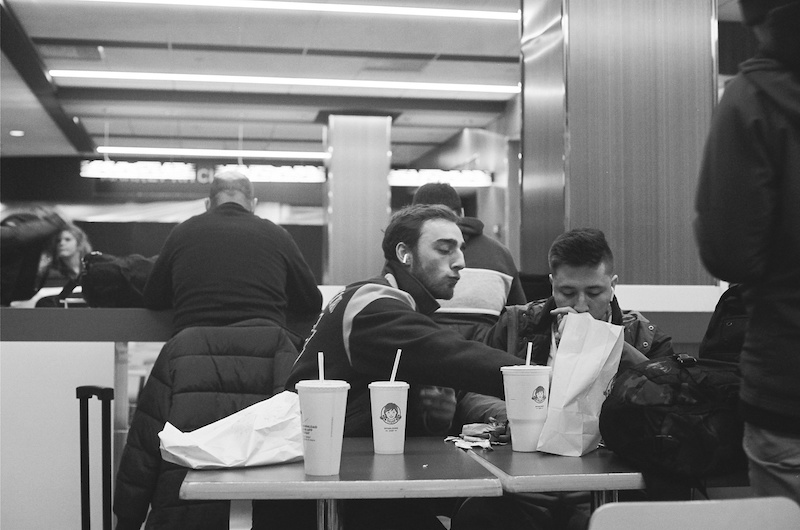 We arrived in Zurich on New Year's Eve and celebrated the new year in the city. It was awesome. The next day Andon and I picked up the rental car, went back to our hotel picked up Nigel and Evan and made our way to Bad Ragaz, where we'd be staying for the next week.

The drive was incredible. I remember we passed about four or five tunnels and the last one really stuck in my memory. It was like a moment out of a movie. We drove through the tunnel and on the other side we were in the Alps. We also had the perfect song on, which is currently playing as I am writing this. We pass through another tunnel and the views get more impressive. I don't think any words were said besides just gasps. I look to my left and I see water which was so blue and clean. We were all taking videos, pictures, snapchats, whatever. Our first taste of the Swiss Alps, I don't think I'll ever forget that moment.

We got to our Airbnb in a small town of Bad Ragaz. The town was so cute and had amazing views. I'm jealous of all those people who get to live in that town and see these views everyday.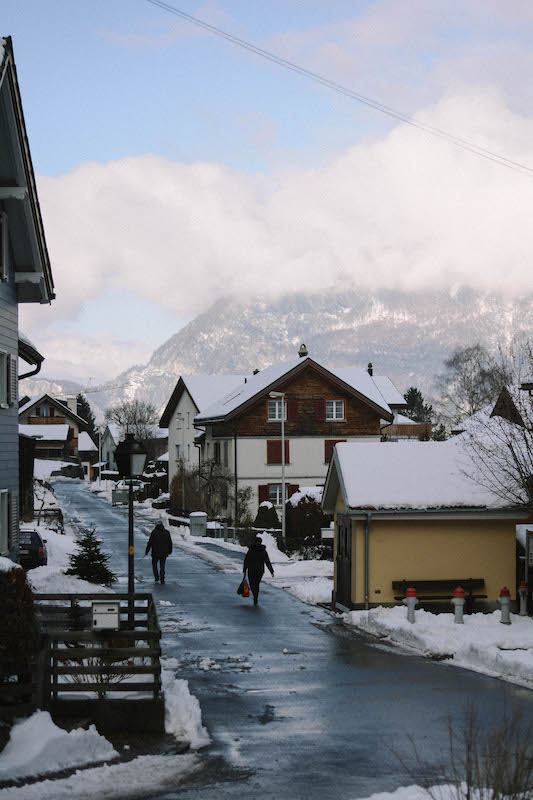 We got some groceries and Andon made us our first family dinner in Switzerland.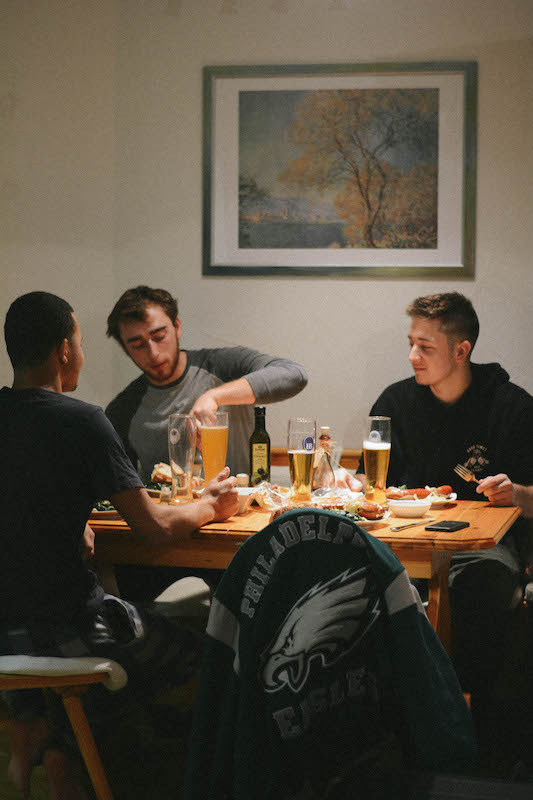 January 2nd we tried waking up early and make our way to Laax. Our first day out in the Alps. The views got even better on our way to the resort. Obviously we pulled over and took a few photos.

Unfortunately at almost 3000 meters, it can get really windy. About 25% of the mountain was opened so we were a bit disappointed. We got on the gondola rode down and it was terrible. It was so hard to ride, people everywhere, really windy. We went back up and got a second run in. Still pretty uneventful, definitely not what I expected. Then the gondola broke so it looks like our day was over. We went to the ticket booth and asked for a refund. We were about to get our money back but I stopped us. We could still ride the other mountain called Flims which was a short bus ride over. We headed to the bus stop, but then the gondola started working again. We hopped in again.

Anyone who's been skiing or snowboarding in Europe will tell you how much different it is than in North America. There's not a lot of designated trails. Everything is "off-piste." We took a run into the trees and it was like we were somewhere else. Fresh snow and a lot of it too. Then we met one of the locals, Hugo. He showed us the rest of the mountain and it was amazing. Whatever feelings I had about the first two runs was now gone and I fell in love with the Swiss Alps.

I didn't take much pictures the first day. I just wanted to focus on riding.

The second day we went to Davos to ride at Parsenn. It was crazy. The city itself is already at 1500 meters and the mountain was a lot higher than the one at Laax.



There was so much snow. There wasn't even a gondola, we had to take a freaking train. We got off at and we were only halfway there.

Once again, the views were insane.

Nigel and I love riding in the trees so we split up from Evan and Andon. We got stuck in knee deep snow. I've never seen that much snow.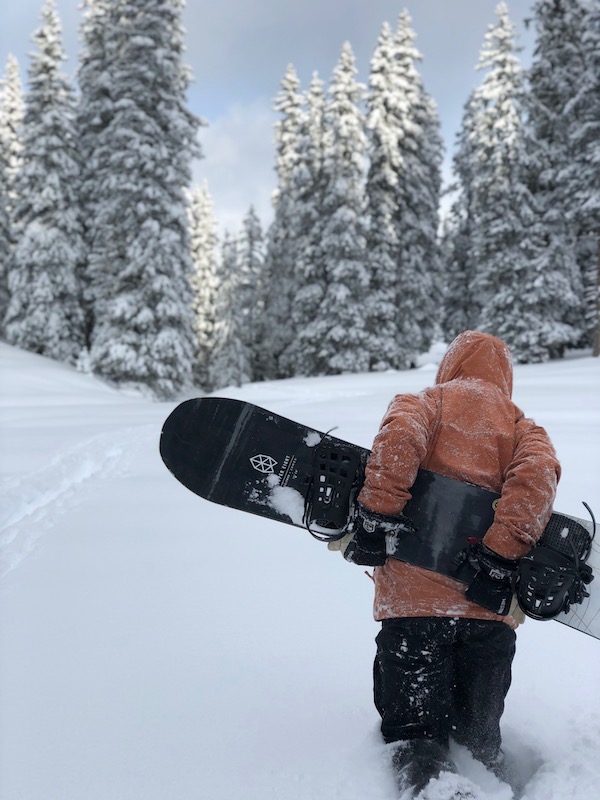 We met some people along the way. All the local were so nice to us. It was a good thing most of them knew a bit of English because communicating was tough already.


Nigel and I went on top of that mountain by taking a gondola.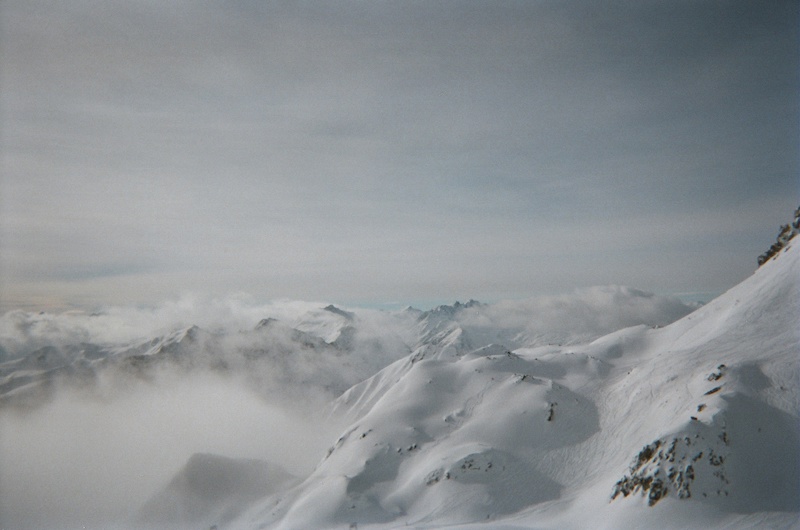 The next three days we went back to Laax. My only regret is that we didn't go back to Davos. It was just too far and the roads were sketchy and then it started snowing so we didn't wanna take any risks.

It was snowing the third day and we went to the top of Laax. We were literally in the clouds. It was a whiteout. Visibility was 0 and it made me dizzy. I couldn't seen the snow in front of me. At some parts I thought I was going downhill but I wasn't and I was so confused. It's hard to explain.

Fourth and fifth day were powder days. There was already so much snow before the storm and we were about to get 40cm more. On the sixth day we had to wake up early to drive Andon to the airport. He's studying abroad in Madrid this semester and had to leave a day early. We didn't do anything for the rest of the day besides pack and just hang out. We were beat. We were also out of money so we had to find the cheapest beer and pizza to survive.

All in all, this trip was an experience of a lifetime and if any of you are passionate about skiing or snowboarding then I recommend going to Switzerland at least once. The airfare was crazy cheap as well as lift tickets and the Airbnb. Switzerland is an expensive country so buying food and gas did put a slight dent in our budget. It was all part of the vacation though. You can't put a price on experience.

I love all the memories that we made in such a short time. I tried to take as many pictures as I could so I could relive these moments.



Thanks for a great time Switzerland and all the people I went with and got to meet.