Colorado 2k18
The Beauty of Snowboarding in Colorado


This trip started out with me and my best friend in September. A month later we had a group of 9 heading out West with zero expectations.

Let me begin by saying flying to Colorado from Philadelphia is quite an experience. Let me start with a quick story.

Literally one year ago, I went to the same place, the same time with my best friend, Nigel. With no exaggeration, we made our flight with 20 minutes until take off due to an accident caused by a snowstorm. It was awesome.

Couple months later, in September 2017, we booked our trip back to Keystone. This time around our two other friends joined us on this trip. By the time October came around we had a group of 9. That alone made the trip so much more exciting.

Fast forward a few months and on January 3, 2018, I was at work, waiting to clock out, meet up with my boys to pack, get a few hours of sleep and get on our way. I check my email to find out our flight from Philly to Denver was cancelled due to a snowstorm. What are the odds? Thirty minutes later we get another email with new flight information. The best part was that the 9 of us were on three different flights, landing in Denver at three different times. We all had layovers in either Phoenix, North Carolina, or Chicago. I met up with Nigel to call the airlines and see what's up. After two hours on the phone we were able to take 2 separate flights from Philly to North Carolina and then take a flight to Denver. Cool, the trip is still on.

We all slept over at my house and packed, we were so stoked to get on the plane, land in Denver at 7pm and get to our Airbnb. We set our alarms for 6am so we had enough time to get on our flight at 10. Dom woke up to receive a voicemail from our airline to find out our flight from North Carolina to Denver got cancelled. Alright cool, what now? We all call our airline to figure this mess out. The final plan was that 5 of us are going to Phoenix, 3 of us are going straight to Denver, and one of us is going to Chicago.

This was already a great trip and we haven't even left New Jersey. To be honest, this made the trip so much more memorable, even with all the frustrations at the time.

So now let's begin with this trip.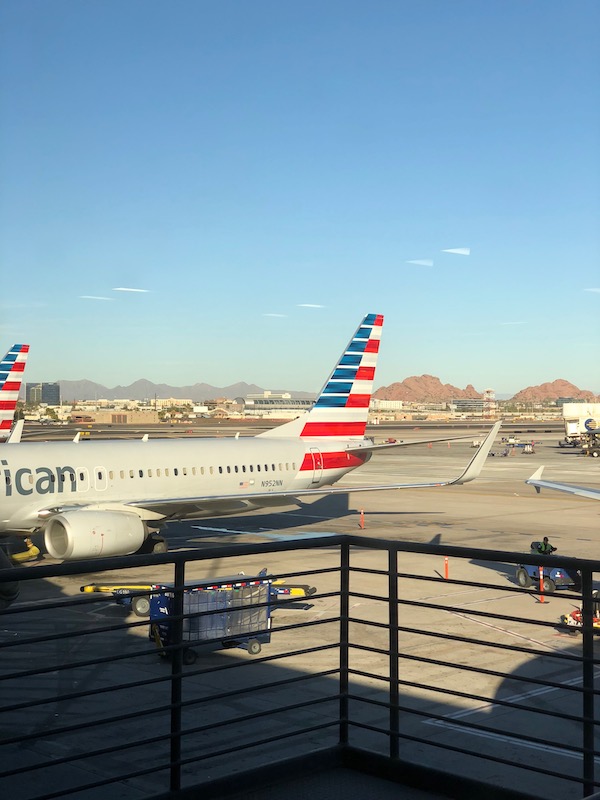 January 4, 2018 (3:34pm MST)

About 20 minutes after landing in Phoenix we were amazed by how beautiful this city was. The views from the plane were awesome too. We're just 3 hours away from reaching our destination and the excitement was building up. We were about 6 hours into the trip and already making the most of it. It was also pretty cool to land in a city that is 80 degrees in January, with snow shoes, jackets and jeans, before landing in Denver.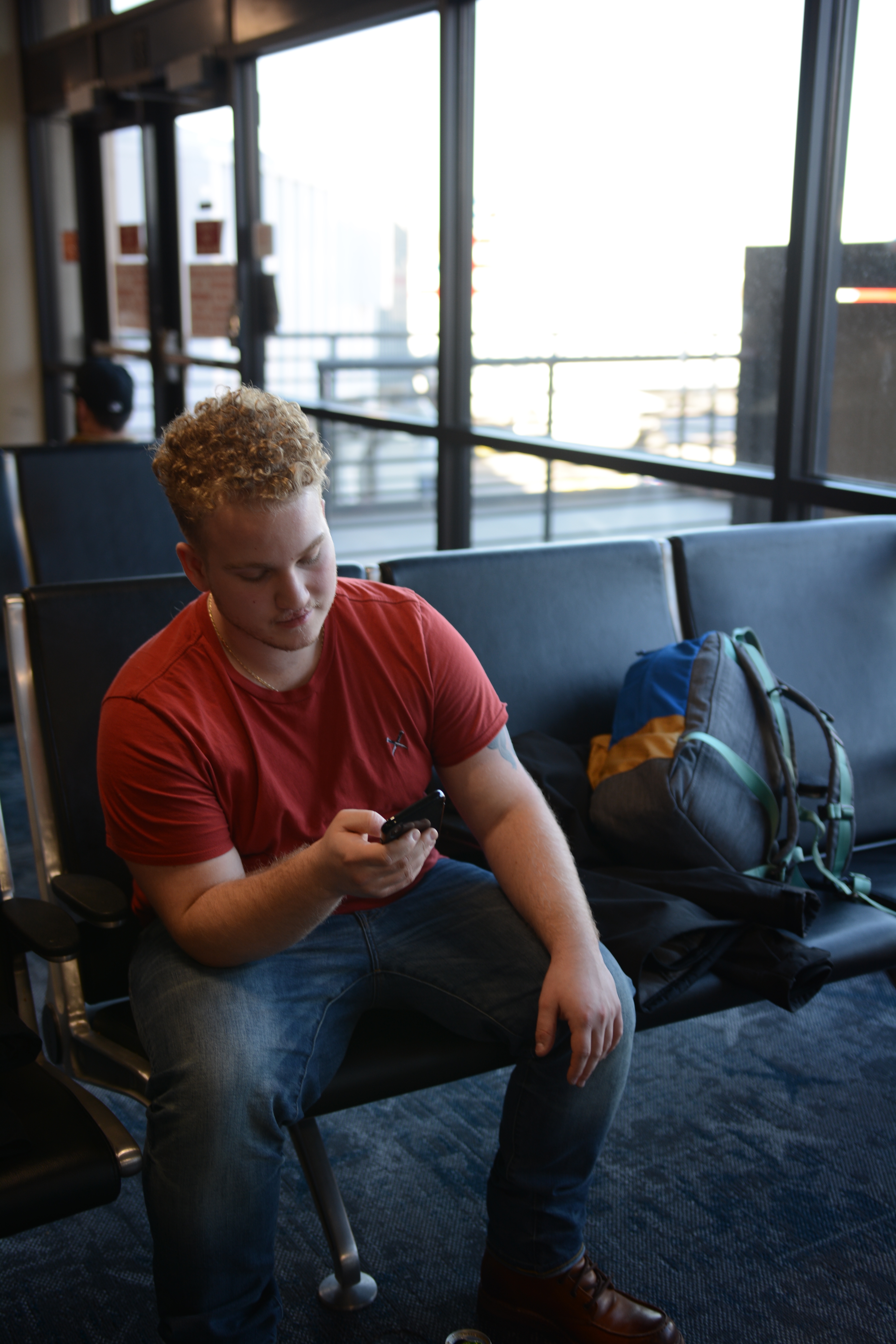 January 4, 2018 (4:03pm MST)

Ryan roughly 10 minutes before boarding our plane to Denver. The cool thing about an adventure is you meet all sorts of people that have an impact on your life. The thing about Ryan is that I had no idea who he was before this trip. One day I get a text in our group chat that he's coming to Colorado with us. He started out as a mutual friend and this trip brought us together, we're homies now. He also went snowboarding like two other times before this Colorado trip. I give him major props.



January 5, 2018 (9:27am MST)

(Pictured from left to right: Dom, Pete, Draps)

After getting to our Airbnb at around 12am MST, we unpacked, put our boards together and went to bed to wake up at 8am for our first day of riding in Colorado. We quickly got dressed, went to go catch our bus to Keystone and go some breakfast before hopping in the gondola. We had no expectations for this trip anymore. Our expectations got crushed the day before, so we just went into this trip without thinking too much. We let life itself take over. Looking back at it now, I had pictured this trip so much differently. I'm glad it didn't go according to plan, because if it did, I wouldn't be writing this.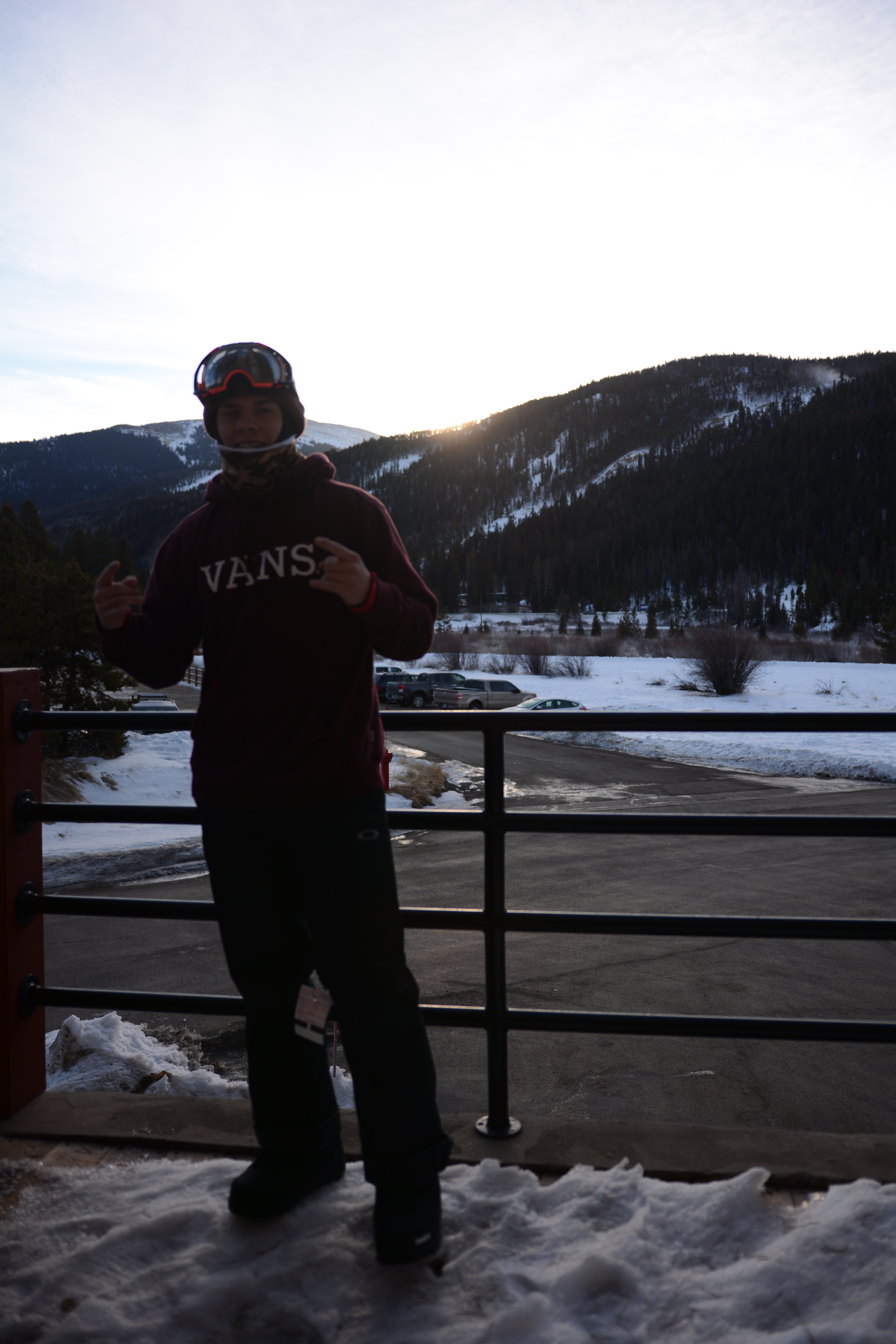 January 5, 2018 (9:30am MST)

(Pictured: Googoo)

While waiting on the others to get dressed, Googoo and I went to our balcony for some Instagram pictures. Keystone resort was right in front of us, it was cool, especially since last year Nigel and I had about an hour bus ride one way to get to Keystone. We were so excited to get on top of that mountain. Being about 11,000 feet above sea level is an experience all on its own. Snowboarding down a mountain that high got our blood pumping.



January 5, 2018 (1:23pm MST)

(Pictured from left to right: Dom, Shivers, Me, Googoo, Pete. Taken by: Bohdan)

This isn't a very artsy picture, but it's one for the memories. I know I'll be looking back at this picture soon enough, thinking, "Damn what a trip this was." It's the innocence that makes this picture. Literally there was nothing to worry about besides enjoying ourselves to the fullest potential. We definitely didn't hold back on that.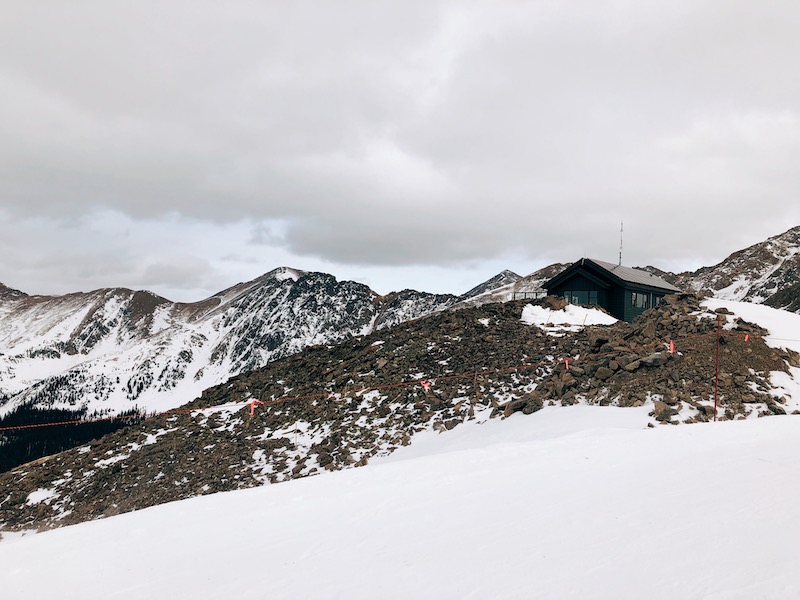 January 6, 2018 (1:43pm MST)

Our second day of riding and we are heading to our second mountain, Arapahoe Basin. We were fortunate enough to have free busses to all these mountains thanks to Summit County. It made this trip so much cheaper and easier instead of renting a car. Arapahoe Basin, or Abasin for short, was such a different mountain than Keystone. It was a favorite by the locals, due to the really difficult terrain. The only downside to this was that there were a lot of moguls created by the skiers. For us snowboarders, it was a lot more difficult to maneuver through the moguls. It didn't stop us. I actually enjoyed this mountain a lot. This picture was taken about 12,000 feet up and that small little ski patrol building made this picture more beautiful. Like how do you go into work as a ski patrol and this is your view? The more I think about it, it left me speechless.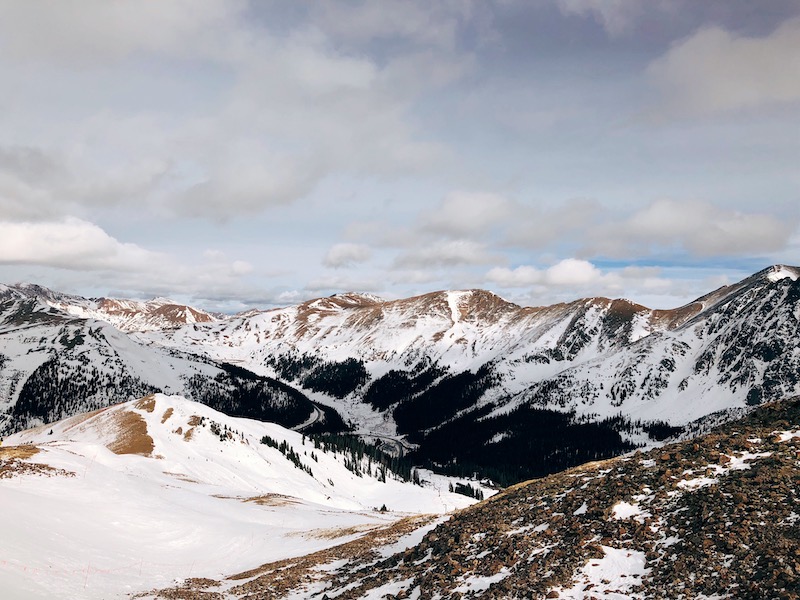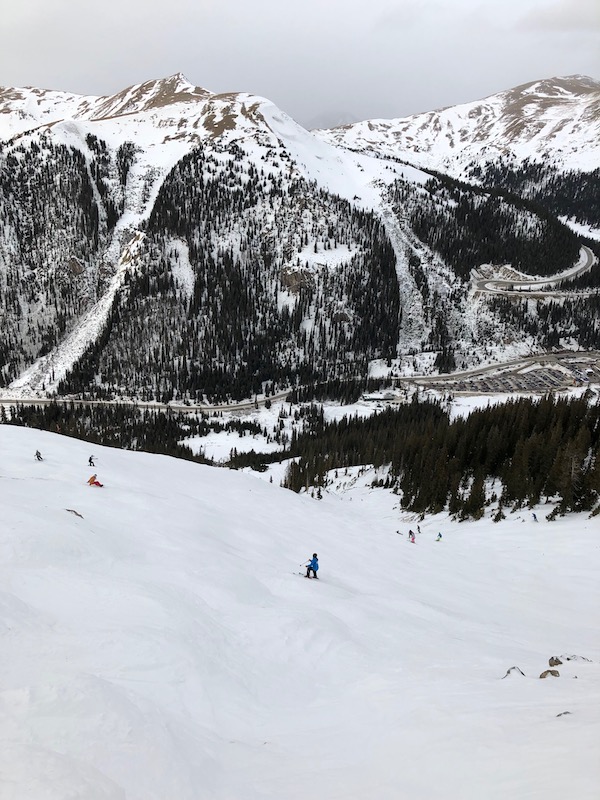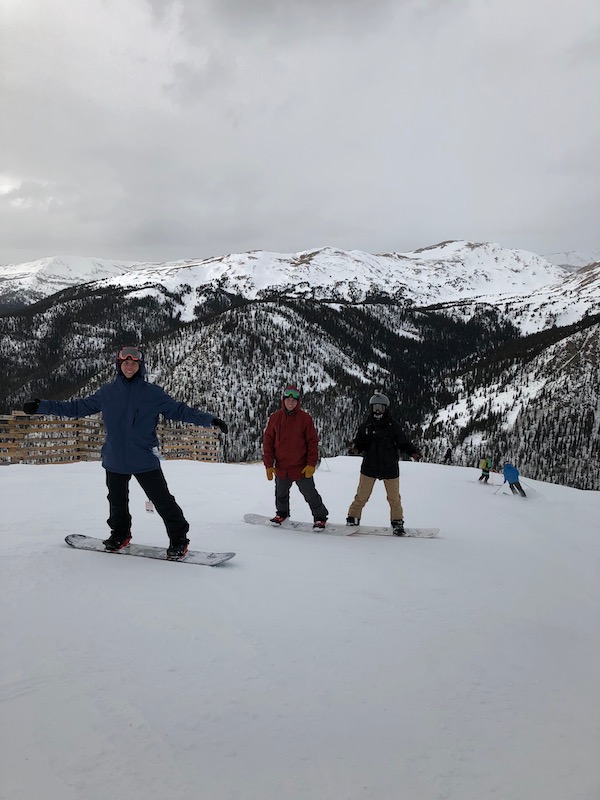 January 6, 2018

More pictures from Abasin. The views were unbelievable at this resort. I would always find myself pulling out the camera and taking picture after picture. Trips are made from memories.

The second picture was taken at the tallest point of the mountain, around 12,000 feet above sea level, but I already mentioned that earlier. This was the toughest trail at Abasin. It was almost a 90 degree angle, we loved it. Some of us were blasting down the mountain, while the others were still getting the hang of the sport. Either way we all gained experience, which was the best part.

My favorite pictures out of the five are the last three.

(Third picture from left to right: Googoo, Pete, Shivers) This picture is one that will make me feel nostalgic in a couple of months. Thinking about the fact that this trip wouldn't be the same without these three guys, as well as the other five, makes it so much more special. In the end, this trip wouldn't be as good as it was without all the people that tagged along. We all created a special bond in a way. I can't stress enough about how cool this experience was.

(Fourth picture from left to right: Nigel, Pete, Draps, Me. Taken by: Googoo) Once again, I like that this photo included the people that embarked on this trip. I already know it's going to make me reminisce about this adventure. We're all caught off guard by the views behind us. The Rocky Mountains are beautiful and unfortunately pictures don't do it justice.

(Fifth picture from left to right: Googoo, Draps, Pete) While waiting for the bus we obviously had a little photoshoot. This picture is cool because it's so worry-free. The older you get, the more responsibilities you have and with more responsibilities comes more stress. However, these 6 days in Colorado we had zero responsibilities, zero worries, zero stress. We were here to enjoy ourselves, to make memories. That's exactly what happened.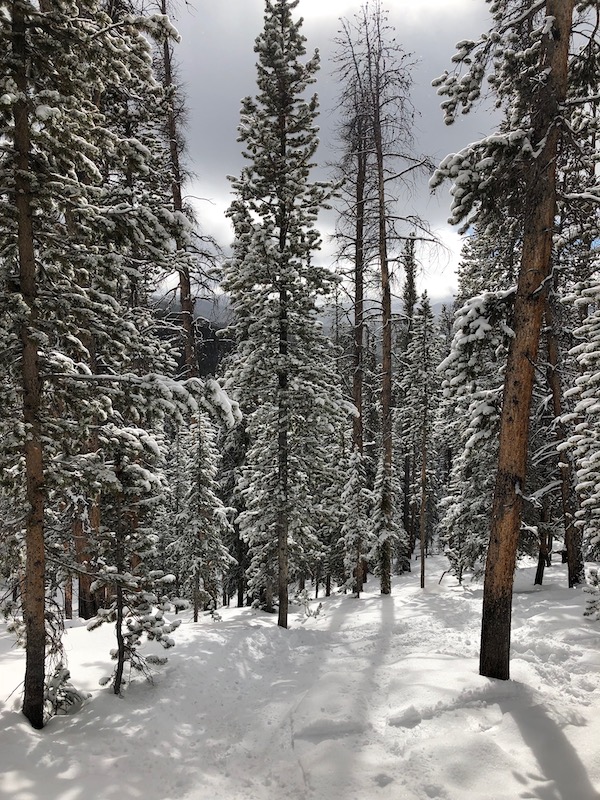 January 7, 2018 (12:09pm MST)

Compared to last year, this was a terrible season in Colorado. According to the locals, this was the worst season in Colorado in the last 10 years. Ouch. On the bright side, we did get around 5 inches of fresh snow overnight. On the downside, we all split up in three different groups, so we didn't ride together. However, Nigel and I went to the trees, went to the blocked off area of Keystone and fell in love. We risked our pass for this, but we didn't see any ski patrol around, and to be honest, it was worth the risk. The best thing about going out west, at least for me is the powder. You're in the middle of nowhere, with a fresh pile of snow in front of you. You can create your own tracks, and let me tell you, being able to create your own tracks is an unbelievable feeling. I'm sure my fellow snowboarders or skiers will agree. It's like surfing on snow. It's indescribable. While you're that deep into the forrest, it is so quiet, you literally can't hear a thing.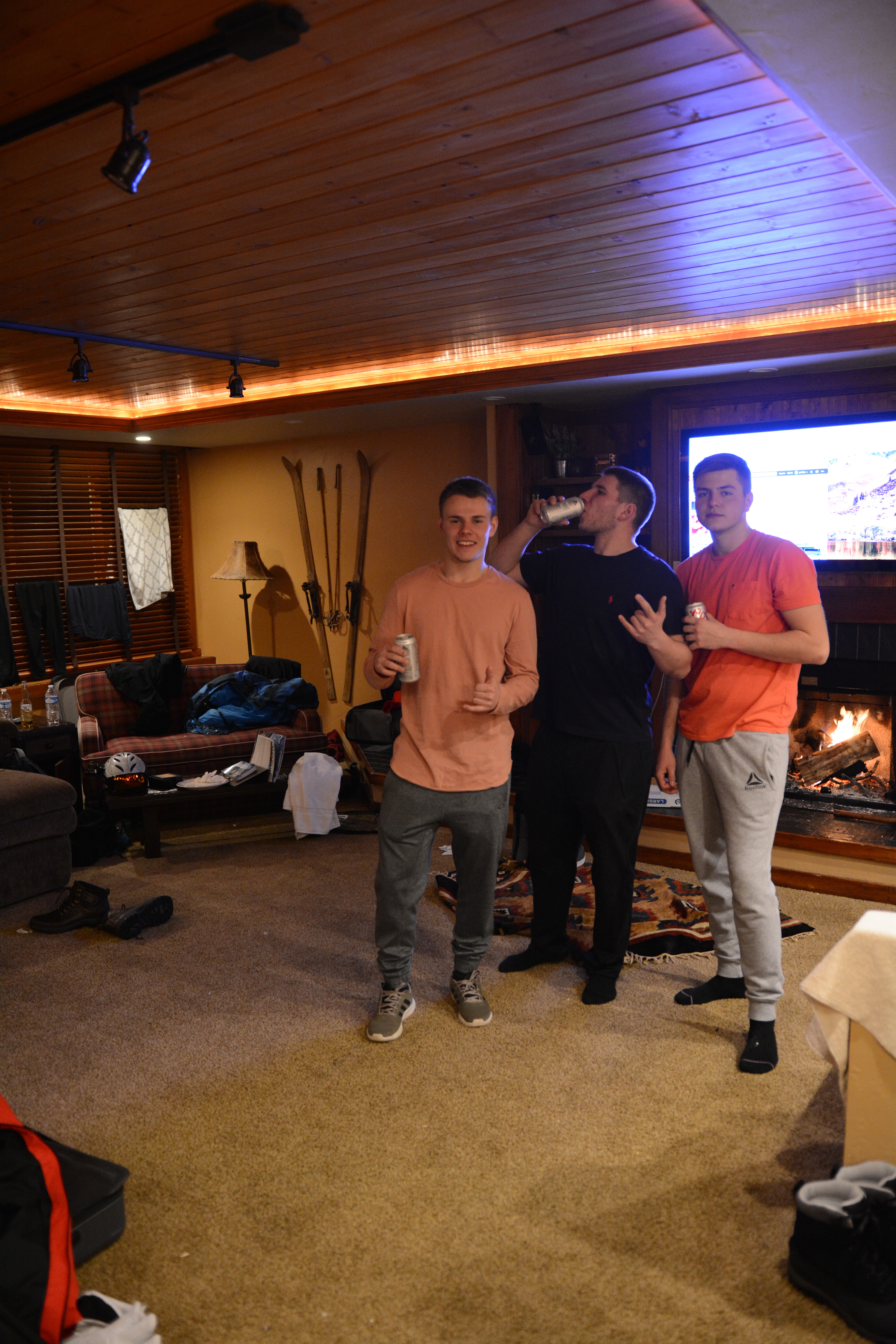 January 7, 2018 (2:19am MST)

(Pictured from left to right: Googoo, Pete, Draps)

Apart from snowboarding, this trip was just about hanging out with great people. With college and work and whatever we all barely spend time together. I've literally know these three guys since 1st grade and it was so nice to spend time with them again, especially in a state like Colorado. We all went our different ways after high school and we were able to all catch up during this trip. Drinking crappy beer, staying up till 3am, waking up at 8am, it was perfect. We, at least I didn't feel any fatigue for once. We literally did this everyday. Woke up early enough to get on the mountain by 9 or 10am, stayed there till 4, got home, hit the showers, ate and drank. If that isn't a trip, than I don't know what is.



January 8, 2018 ( 12:38pm MST)

This was the view from the bus. Just like everything else, it was stunning. This was our break day. Being so high in altitude and riding for approximately 7 to 8 hours a day, definitely took a toll on us. The lack of snow definitely had an impact on our decision to rest and explore a little bit more of Summit County, Colorado. A few of us went snowmobiling, others went shopping for souvenirs, and the rest of us, including me, went to a sensory deprivation tank. Later that night, we all met up in Breckenridge to get food and enjoy our day off.

...

In the end, this trip was so much more than I expected. We also spent one more day at Keystone before going back to New Jersey, but I think I've said enough about this trip. 24 hours after landing back home, I already miss this and reminisce about Colorado. The fact that we were 1,800 miles away from home, in a state as beautiful as Colorado was awesome. The fact that we were able to snowboard around such stunning views was even better. The fact that we were able to stay in such a cool place topped it all off. Like I said, this trip started out with two people and grew to a group of nine. We all bonded together in a special way. We made memories that will last a lifetime. We're all growing up and getting away in this fashion was really cool. This is what an adventure is all about. Being with people who you vibe with, laughing together, goofing off, making memories. I can't explain how important that is in this world we live in today. It's so nice to get away from all the problems we deal with everyday.

I already can't wait to go back.