---
FullTilt Labs
June 2022 - Present
FullTilt Labs is an upcoming cannabis cultivation company. The first task of this project was to come up with a logo and chip away at a brand identity behind the scenes. Similar to your craft beer, FullTilt Labs aims to produce the equivalent of craft cannabis. The brand wants to focus on giving off a "premium" feel to its name, while keeping it cool and hip.

After the logo was established, the next focus was to create a placeholder website and some merch. Since this is a field I'm not familiar in, a lot of time has gone into researching already well established cannabis brands. My knowledge of the alcohol industry allows me to bring in some valuable information about marketing as well. One idea was to create apparel that will seperate them from its competitors.

This is an ongoing freelance project, with more exciting design projects to come!
Logotype
-
Since this is a premium cannabis brand, my first though for the logo was to make use a serif typeface; to give the logo a luxurious feel. The client wanted a minimal logo with a "drip" effect which will symbolize the brand well. Also there was an emphasis on using yellow or purple. After a few revisions, this is the logo that we agreed will work best.
Shirt Design and Shoot
-
This project was loads of fun. I love designing apparel. The shirts were designed to generate hype while the brand is still developing its product. The slogan for FullTilt Labs is "Expanding the Mind." This couldn't be another white logo shirt for an up and coming cool brand. It had to represent the brand and also get it's target audience excited about what's to come.

This was further accomplished by creating a mysterious style video of a spinning shirt. The process was quite fun using a greenscreen, lights to create the floating shirt.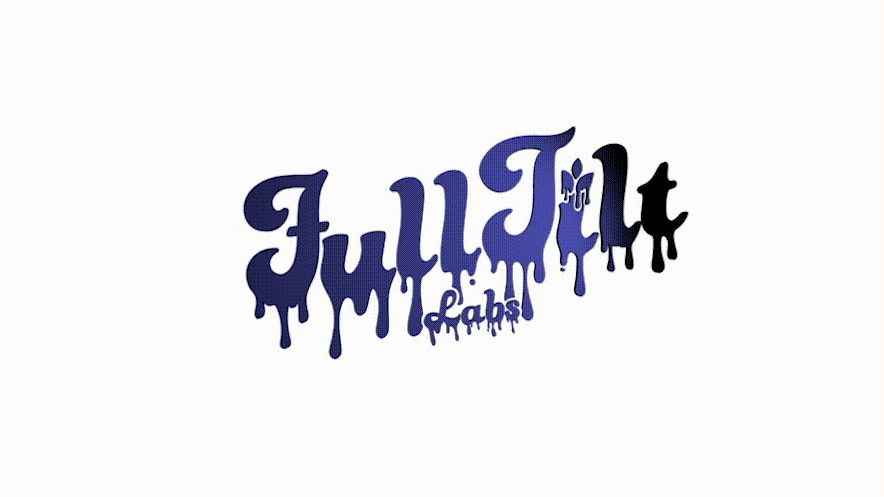 3D Logo
-
I want to learn more about working with 3D objects. Making the logo into a 3D rotating GIF was a good practice for me to learn how softwares such as Blender and After Effects work with modeling. The 3D logo will be used throughout the FullTilt Labs website as well as other social media aspects in the future.